about crystalline
Crystalline is a "mini TCG" focusing on the new Sailor Moon anime, Sailor Moon Crystal. I'm your host, Rahenna, and I invented the concept of mini TCGs back in 2010 because I wanted to run MOAR TCGs! without putting in a huge amount of time on updates. Games are automated and there aren't a lot of intense activities, which can be nice for players who don't have a huge amount of time to devote to games, or who want to join something but don't know a whole lot about the subject.
So a "mini TCG" is a lot like a normal TCG, except it's a bit less intense for everyone. :p
I have a feeling it may become not-so-mini in the future, but for now, it will be a relatively simple game with easy automated weekly games and a few forum activities.
about cards
All cards at Crystalline are worth one, including member cards.
Yup. All of these are worth one.



The first two examples are standard TCG cards. One is a scene card and the other is a puzzle card. These are the cards you'll get by playing games and participating in forum activities.
The third card with the purple border is a member card. Each player can select their favorite SMCrystal image to put on a personalized member card, which will represent them on the member list. The only way to get member cards other than your own is to trade with the player who owns it!
about coupons
Haha, just kidding, this is about coupon. Only one!
The only coupon here at Crystalline is good for one choice card. They will be relatively hard to find, so be sure to gather as many as you can! Use them at the coupon exchange to get your choice cards.
about levels
As you collect more cards, your level in the TCG will increase. Here's the requirements for each level.
| | | | |
| --- | --- | --- | --- |
| level | card value | level | card value |
| One | 0-150 | Six | 1001-1500 |
| Two | 151-300 | Seven | 1501-2000 |
| Three | 301-500 | Eight | 2001-2500 |
| Four | 501-700 | Nine | 2501-3000 |
| Five | 701-1000 | Ten | 3001+ |
When you level up, be sure to fill in the level up form to let me know! You'll also be rewarded with four choice cards & six random cards so don't forget! (Seriously, does anyone forget this? No. XD)
Oh, and you might want to use a level badge on your trade post to represent your current level. Head over there to grab a new one after you level up. Here's an example. :D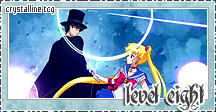 about mastering
When you collect all 20 cards in a deck, you are considered a master of that deck. Woohoo! You can take the master badge from the card list and add it to your trade post as a badge of honor. :D
Sample master badges:

When you master a deck, use the mastery form to let me know! You'll also be rewarded with two choice cards & three random cards for your accomplishment.